---

"NEW"

Translate any page on this web site with Microsoft Translator at the bottom of each page

---

Cayman Kai Vacations is

---

Click to view Profile

---
Click on area of interest
Cayman Kai Vacations

Specializing in offring

"The Island Houses of Cayman Kai"

Vacation Rentals, Rental Management and Investment Properties

in the Cayman Kai/Rum Point area, Grand Caymans, Cayman Islands

---


Grand Cayman's Best Kept Secret!
"ISLAND HOUSE #16"
Grand Cayman, Cayman Islands, B. W. I.
Sold 10/27/2006
An investment that will give you many type of "Returns"!
(You'll need the following Program to view maps)

This unfurnished Vacation Rental Island House offers you the opportunity to decorate to your taste.

This Island House has just been completed repainted and all new appliances.
First Floor Second Floor
Click to view "Floor Plan"
Each Island House is decorated to the owner's taste (formal/informal) & some have additional amenities (air conditioning on the first floor, different sizes beds in bedrooms (king, queen, double, TV in Master Bedroom and/or the Guest Bedroom, Queen pull out sofa in living or sun room, bicycles, kayak & equipment, snorkeling equipment).
(Pictures were taken during some of the renovations. All furniture seen in pictures will be removed shortly.)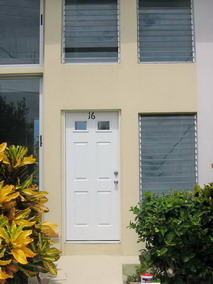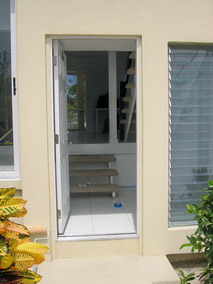 Entrance to Island House #16.

Foyer with ceramic tile entrance leading to the first floor.

Large living room and dining area with ceramic tile.

Sitting room off the living with view of front yard.

Two 10 foot sliding glass windows in living and dining area open to the two story lanai.

Comfortable sitting area off the living room with view of front yard and Rum Point Beach

Fully equipped kitchen (all new appliances) with laundry room with washer and dryer.

Master bedroom with individual air conditioner, full bath with tub, shower and walk in closet

Other Island Houses have a king size bed with dresser and end tables in the master bedroom.

Balcony off the master bedroom which extends out into the two story lanai has a beautiful view of the pool and lagoon.

Extra bedroom with individual air conditioner, full bath with tub, shower and walk in closet.

Other Island Houses have two double beds with dresser and end tables in the guest bedroom.

Balcony off the guest bedroom which extends out into the two story lanai has a beautiful view of the pool and lagoon.
The two story lanai has a informal dining area overlooking the back yard, pool and lagoon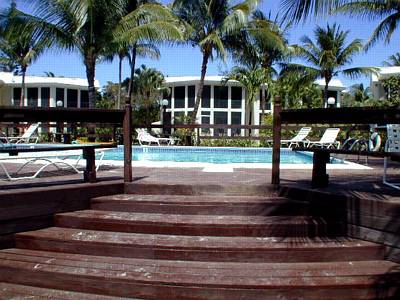 Care to take your dip in a swimming pool rather than the Caribbean Sea? You can swim in our 20' x 40' private pool surrounded by palm trees with their branches gently swaying in the breeze. For those who would rather lounge by the pool than swim, there is enough deck furniture provided for 20 people with a mixture of chairs, lounges and benches.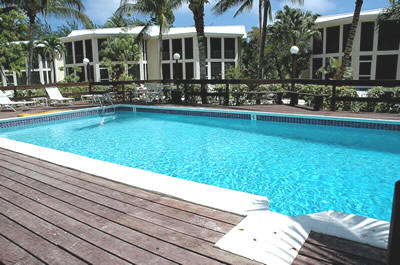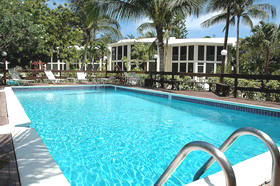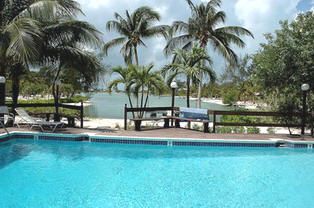 Enjoy a swim in the freshwater pool that overlooks the lagoon, or step across to Rum Point (a one minute stroll) and enjoy lunch and drinks at the Wreck Bar then nap in one of the many hammocks shaded by Australian pine.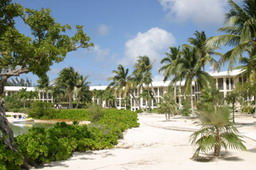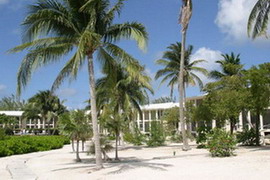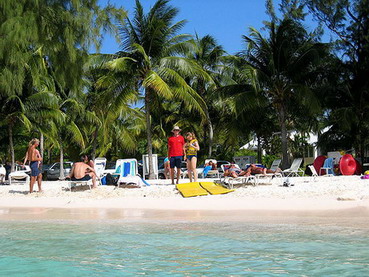 Rum Point Beach which is just steps from your front door features lovely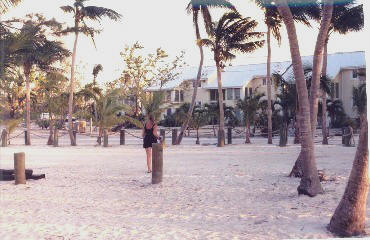 white sand beaches, pristine snorkeling over marine protected reefs, volleyball and beautiful Casuarinas Australian pines with shaded hammocks, beach chairs and picnic tables. The Wreck Bar & Grill offers an excellent lunch menu and full bar.
Your front yard is North Sound where you can enjoy some of the best swimming, snorkeling and diving in the world. Enter Rum Point Beach by taking a few steps from your front door on a sand path between white picket fences. As you walk toward the beach, cool trade winds quickly erase all thoughts of your job, commute and bad weather at home. Australian pines with island parrots and tropical birds sitting on feathery branches shade the shore.
To view Virtual Tour click on link above or below
Over the years you will not only truly enjoyed the time you spend at your Vacation Rental Property but what it will give you in return, while still being able to play host to many guests and visitors from all over the world.
You will always have very fond memories of the Island of Grand Cayman, the area of Cayman Kai/Rum Point and especially the People and our Neighbors.
Not only will it supplied you with these memories and enjoyable times it has will give you a very good return on our investment by giving you a very good on-going rental income, not only to pay for the up keep of your Vacation Rental Property, but to pay for our time on the Island. We couldn't ask for more!
We are positive you will come to appreciate the tranquil captivating beauty, most assuredly the safety and refreshing lifestyle and return on your investment that is exclusive to owning a Vacation Rental Property at Cayman Kai, Rum Point, Grand Cayman, Cayman Islands, B. W. I.
An Investment in a Caribbean Island House at Cayman Kai, Grand Caymans

can offer you many things:
(Click to read article published in the Cayman Net News)
Excellent Return on Investment
Affordable Vacations Great Rental Occupancy & Income Retirement
They Can All Be Yours!!!
In concerning the purchase of "Vacation Rental Property",

please take into consideration what you would receive in return for your investment:
- An excellent overall return on your investment.- Since Grand Cayman is one of the most popular vacation spots in the Caribbean, the future holds very good appreciation value in the upcoming years.
- The Best Location on Grand Cayman - Located in the exclusive area of Cayman Kai is this Community by the Sea. Cayman Kai covers 400 acres, and has more than six miles of beach with very few footprints. It is low density, mostly private homes on half acre sites. Located on the quiet North Side of the island, a 45-minute drive from the busy city of Georgetown or a twenty minute ferry ride, it has the famous Rum Point Beach only a few steps from your front door, a fresh water pool only a few steps from your back door, a inlet lagoon that exits in to the Caribbean Sea, many activities for adults and children, many very good restaurants, a complete water facility "Red Sail Sport " at Rum Point Beach which offers any water sport you could want, a convenience store within a short distance and some of the World's finest neighbors.

-Unfurnished- A unfurnished Vacation Rental Property that offers you all of its comforts and extra amenities. This will give you the opportunity to decorate the Island House to your taste.
- Great "Rental Occupancy & Income"- One of the major advantages in purchasing a Vacation Rental Property is the income it will produce for you. The average Island House produces income of $20,000 to $40,000 in gross rentals.

- A Web Site to Generate Rentals- Cayman Kai Vacations offers Rental Management Services to list your Island House on our web site or create an individual web site for you for the purpose of marketing and renting your Island House. Our web site is listed on all the top search engines and major travel web sites so that it will generate rental income from the potential of millions of people that are looking for a place to vacation at every day of the year. We would manage it completely for you (web site and all rentals) for a monthly fee and commission on gross rentals.

-Recent Improvements-

Installation of a new state of the art septic system for the Island House.

New aluminum roof with a 20 year guarantee.

Synergy (stuccoing) the entire outside of the house with a 20 year guarantee.

Synergy (stuccoing) the interior of the lanai with a 20 year guarantee.

Replace structural support beams on the lanai.

New air conditioners for the bedrooms.

New kitchen appliances.

New washer and dryer.

All new screening.

Painting of the interior of the Island House.

If you are interested in discussing the purchase of Island House #16:
Please send your inquiry with your name and phone number to:

Need more information or have questions...

or

Call (412) 828-2111 and ask for Bob

If you are interested in residing on Grand Cayman, click on the following links for valuable information regarding

residency, economy, work permits, incorporation, offshore investing and more.

---

Need more information or have questions...

or

Call (412) 828-2111 and ask for Robert Wagner

Caribbean Vacation Grand Cayman Island Houses Rentals, Cayman Kai, Rum Point, Grand Cayman, Cayman Islands