"Cayman Kai Vacations" chosen best Privately Owned Properties

---

"85 Degrees"

Average Temperature

---

"82 Degrees"

Average Water Temperature

---

"7"

Average number of spectacular sunsets at Rum Point Beach in a week

---
"Click on area of interest below"

























































































"CAYMAN KAI VACATIONS"

"Villas, Rum Point Club Resort,
Island Houses
and Condominiums"
in Cayman Kai/Rum Point and North Side of Grand Cayman

click on to print page
---
"LES JALOUSIES"
Cayman Kai
8 Guests
4 Bathrooms
1- KING SIZE BED
1- QUEEN SIZE BED
2 - TWIN BEDS
1- LARGE SECTIONAL SOFA CAN BE CONVERTED INTO TWO TWINS
| | |
| --- | --- |
| | |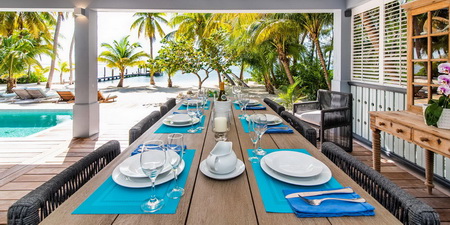 | | |
| --- | --- |
| | |
| | |
| --- | --- |
| | |
| | |
| --- | --- |
| | |
| | |
| --- | --- |
| | |
---
All Guests Must Be 10 or Older; Infants Under 2 Welcome
No Sunday Arrivals or Departures, Please
Les Jalousies is a breathtakingly decorated, newly-renovated beach villa nestled in the exclusive resort neighborhood of Cayman Kai. Guests staying at Les Jalousies will enjoy the utmost privacy with a gated driveway, lush tropical landscaping, and vacant lots on either side of the villa. Guests can relax and unwind in complete seclusion at this tropical sanctuary.
Conveniently located within a short drive to Rum Point Beach, guests are also only a 5-minute walk from The Kaibo Marina and Starfish Point. A rental car is strongly recommended, as taxi service is unreliable outside of Seven Mile Beach and there is no Uber or Lyft on the island.
Upon arrival, your on-island property manager will meet and greet you to answer any questions you may have about the area and provide a tour of the villa. Your property manager can also arrange additional housekeeping services should you require it. A caretaker comes included with the villa to maintain the property grounds raking the beach in the mornings and tidying the pool deck and outdoor grilling station. Grocery delivery can be ordered in advance of your arrival with pre-stocking handled by the caretaker free of charge.
The oceanfront great room is the indoor focal point of this home with its vaulted ceilings and 24-foot wide wall of glass doors leading to the veranda and pool deck. The pool is set below the veranda into an Ipe wood deck laid above the sand offering guests an immersive experience with beachfront views while cooling off during the hot summer months. Ceiling fans under the veranda provide an additional breeze for guest comfort. Multiple hammocks and palms trees line the backyard. Beyond that, the villa's private dock extends 100' from the beach over the clear water and is capped with a thatched cabana and 2 swinging benches.
Inside, a contemporary chef's kitchen features top-of-the-line appliances including a built-in Sub-Zero freezer, two Sub-Zero fridges, a Miele steam oven and two sinks each with its own dishwasher. The marble island is enormous and a natural gathering place. The Petrof grand piano in the living area is left unlocked and open for guests to play and enjoy.
Les Jalousies is configured to sleep 6 guests across 3 bedrooms with another 2 guests (10 yrs. or older) sleeping in the media room with adjacent full bathroom.
Sleeping Arrangements

(Sleeps 8 guests total)
Master Suite: Occupies the entire west wing, king bed, ensuite bathroom with double vanity, free-standing bath, double shower with dual heads, direct access to the oceanfront veranda and pool deck, unobstructed ocean and dock views.

Queen Suite: Contemporary canopy bed, ensuite bathroom with double vanity and stand-alone shower with dual heads, direct access to oceanfront veranda and pool deck, ocean & dock views.

Garden Twin Suite: 2 twin beds*, ensuite bathroom with an outdoor tiled shower, direct access to a private terrace with ocean views.

Media Den: Large sectional sofa can be converted into 2 twin beds*, shares adjacent full bathroom with shower.
Infants less than 24 months old sleeping in cribs are permitted. Pack-n-Plays and high chairs/booster seats are provided complimentary by Silver Thatch Guest Services.
Les Jalousies Notable Features
A part-time caretaker resides on-site in a separate cottage and provides pool cleaning and early morning beach-raking so you can enjoy a refreshing swim to start your day.

Weekday, non-holiday light housekeeping provided.

60-foot wide oceanfront veranda with ceiling fans, alfresco dining, and lounge seating.

Private dock with a ladder for water entry. Silver Thatch Watersports can collect guests off the dock for private snorkel and dive charters.

Thatched cabana on the dock furnished with 2 swing benches and a table for sunset viewings.

Sandy backyard beach with clear water for wading and viewing starfish.

2 complimentary Silver Thatch tandem kayaks provided for guest use.

More equipment is available for discounted hire (waiver required)**.
This villa is an excellent choice for the family seeking luxury decor, privacy, a sandy beach, superior amenities, and services. Les Jalousies is within walking distance to the restaurants in Cayman Kai, local water-sports, and the best excursions Grand Cayman has to offer.
*Twin beds can be converted to a king bed upon request prior to arrival
*Note: A Cleaning Fee is included due to enhanced cleaning, sanitation, and inspection protocols.
**Additional tandem kayaks and stand-up paddleboards (SUPs) available for discounted rental. Signed waiver required.
---
The 10% Guest Service Fee includes your Silver Thatch Membership.
The Guest Service Fee is capped at 10 days for extended stays.
Member Benefits
Centralized on-island Guest Services & Welcome Center

Unlimited use of Silver Thatch Fitness Center (18+ yrs.)

Business Center Access: computers, printer, scanner, & FedEx/DHL supplies

Proprietary Silver Thatch Discount Card for savings at local businesses

10% advance booking discount for private charter

Complimentary use of snorkel equipment

Guest parcel receipt & hold for check-in

Jacques Scott Wine & Spirits pre-order & hold for check-in

Referral to preferred vendors, guest services desk assistance

Airport arrival Fast-Track VIP Process (fee charged by CAA)

Special event/dinner reservations
At-Villa Benefits
Welcome amenity basket

Complimentary early check-in, if no check out on same day

Day-after-arrival guest services follow-up

Gilchrist & Soames bath products

Pre-stocking of groceries & beverages (delivery fee applies)

Arrange chefs, cooks, babysitting & family photography

$2,500 of Accidental Villa Damage Protection

Complimentary pack-n-plays, booster seats, & baby gates

Additional tandem kayaks and stand up paddleboards (SUPs) available for discounted rental*
*Signed waiver required.
Beach Notes
The white sand beach behind Les Jalousies is pure, barefoot beach sand. One can easily walk up the beach around to Starfish Point. This quiet area faces south so in winter months when a cold front brings winds from the north or east, the beach and veranda areas tend to remain quite calm. We can certainly have storms from the south, but those are rare.
Facing the sound, the waters behind Les Jalousies are clear and calm. The villa sits on a protected marine zone and benefits from a robust coastal ecosystem. The villa's wooden dock attracts schools of small and large tropical fish with the occasional visit from a stingray or two. Egrets flying overhead in search of their next meal speaks to the biodiversity blossoming in the villa's backyard.
All beaches in Grand Cayman are technically open to the public, but you will not see traffic behind Les Jalousies due to lack of access. We also recommend walking 10 minutes up the street to the Rum Point Beach (2-minute drive). The Rum Point Club also offers a bar and grill, plus lounge chaises, and a diverse water sports menu to keep you active.
Our guests usually enjoy sitting on the beach at Les Jalousies and watching the sun sink in the west with their toes in the sand and a beverage in their hand!
General Grand Cayman Beach Notes
All beaches in Grand Cayman are technically "public" since the Queen owns up to the high water mark and the shoreline quality behind your property may vary seasonally. Be advised that the beach or water entry behind your property may vary slightly from the images on our website because of the weather/mother nature.
Ocean Debris & Sargassum Seaweed
Beaches in the east, south, and north of Grand Cayman may also experience floating ocean debris and sargassum weed seasonally. Les Jalousies is blessed with a prime location sheltered from currents that very rarely bring sargassum or flotsam to its beach.
Sargassum is a generally harmless floating seaweed that has increased in frequency in recent years. Although sargassum is an unsightly nuisance, it is largely seasonal in summer. Our owners do make efforts to remove heavy sargassum and will have the beach raked prior to your arrival.
The on-site caretaker will rake the beach daily during your stay.
---
"LES JALOUSIES"
Rental Rates
CERTAIN MAJOR VACATION RENTAL WEBSITES
ARE NOW CHARGING A "BOOKING" OR "SERVICE FEE"
OVER THE OWNER RENTAL RATES TO BOOK ON THEIR SITES
CAYMAN KAI VACATIONS

LISTED PRICES FOR ALL PROPERTIES DO NOT INCLUDE ANY "BOOKING" OR "SERVICES FEES"

THIS CAN SAVE YOU FROM 4% TO 15%
| | | | | | |
| --- | --- | --- | --- | --- | --- |
| Web Site | CAYMAN KAI VACATIONS | | | | |
| BOOKING/SERVICE FEE | 0% | 4% to 9% | 4% to 9% | 5% to 15% | 4% to 9% |
| Begins | Ends | Daily |
| --- | --- | --- |
| Nov 06, 2021 | Nov 19, 2021 | $1,350 |
| Nov 20, 2021 | Nov 27, 2021 | $1,500 |
| Nov 28, 2021 | Dec 17, 2021 | $1,350 |
| Dec 18, 2021 | Dec 25, 2021 | $3,000 |
| Dec 26, 2021 | Jan 04, 2022 | $3,450 |
| Jan 05, 2022 | Mar 05, 2022 | $1,750 |
| Mar 06, 2022 | Apr 15, 2022 | $1,950 |
| Apr 16, 2022 | May 27, 2022 | $1,400 |
| May 28, 2022 | Aug 19, 2022 | $1,550 |
| Aug 20, 2022 | Nov 04, 2022 | $1,150 |
| Nov 05, 2022 | Nov 18, 2022 | $1,450 |
| Nov 19, 2022 | Nov 26, 2022 | $1,550 |
| Nov 27, 2022 | Dec 16, 2022 | $1,450 |
| Dec 17, 2022 | Dec 25, 2022 | $3,200 |
| Dec 26, 2022 | Jan 02, 2023 | $3,650 |
| Jan 03, 2023 | Mar 03, 2023 | $1,750 |
| Mar 04, 2023 | Apr 14, 2023 | $1,950 |
| Apr 15, 2023 | May 26, 2023 | $1,400 |
| May 27, 2023 | Aug 25, 2023 | $1,550 |
13% Occupancy Tax added to all rates

10% Guest Service Fee includes your Silver Thatch Membership

Guest Service Fee is capped at 10 days for extended stays

Owner requires a $1,000 refundable excess cleaning deposit and a $2,500 refundable damage deposit

We accept Visa, MC, Discover, and Bank Wire for payments.
Booking Rules
No children under 10 years of age, please. Infants, 2 or under, sleeping in cribs/pack-n-plays do not count towards occupancy.

No Sunday arrivals permitted. House-manager day off.

5 nights minimum stay required; inquire for shorter stays if calendar suits.

6 nights minimum and full occupancy required over Thanksgiving week.

7 nights minimum and full occupancy required over Christmas and New Year's.

Christmas & New Year's dates are split into two rental periods. Please inquire with your travel dates prior to booking.

Shorter stays may be available but subject to a higher cleaning fee. Please inquire before booking.

Must be 25 years or older to book and must occupy the property during the entire stay.

No Smoking Allowed.

Small Pets Permitted.
Flexible Cancellation Options
Travel planning can be unpredictable right now with reopening protocols subject to change by the government. That's why we have expanded our cancellation policy to provide you peace of mind should the pandemic upend your travel plans.
Within 60 days of your arrival, should there be no reasonable transport options to Grand Cayman or an unforeseen quarantine is required, you will have two options:
Defer your trip up to 12 months from the planned arrival date with full payment credited towards a subsequent similar stay, or

Request to cancel for a full refund of monies paid less a 3.50% cancellation fee.
Book with confidence and review our Cancellation Policy for complete details.
Villa Cleaning & Sanitation
We're committed to the health and safety of all our guests and have adopted enhanced cleaning safeguards to suppress the spread of COVID-19. All villas are cleaned and sanitized prior to each guest's arrival using health agency-approved cleaners and disinfectants. We also ask our owners to provide a starter supply of extra cleaning products.
Additional housekeeping services can be purchased after booking in 3-hour time blocks. Scheduling may be coordinated with your property manager upon arrival.
---
Booking Rules, Cancellation Policy and Villa Cleaning Sanitation apply to all new booking after 10/1/2021

All reservations will be subject to the
All information, policies, rates, availability dates, amenities and Terms and Conditions listed on this web site for Cayman Kai Vacations and each individual Island House are believed to be true and correct, but can change at any time. If there is a difference in the listed information, policies, rates, availability dates, amenities and Terms and Conditions and the actual information, policies, rates, availability dates, amenities and Terms and Conditions for your selected Island House, we will contact you before we finalize any reservation.
---
We have taken great care to network with reputable local Management Companies, located in Cayman Kai, to ensure quality and prompt services. Services include: preparing homes for guests arrival and departure; maid services; and any emergency services or repairs if necessary. They will be on call to assist all our guests.
---

"Les Jalousies " is licensed annually by the Hotels Licensing Board, Cayman Island's Tourist Department to operate as Tourist
---
Copyright © 2004-2022

Cayman Kai Vacations

All Rights Reserved

Note that Copyright applies to the entirety of the content of this web site.

Site Design & Maintenance by

Web Master -

Cayman Kai Vacations
---
Caribbean Vacation Grand Cayman Island Houses Rentals, Cayman Kai, Rum Point, Grand Cayman, Cayman Islands