"Cayman Kai Vacations" chosen best Privately Owned Properties

---
"Click on area of interest below"
Cayman Kai Vacations

Specializing in offering the

Vacation Rentals, Rental Management and Investment Properties

in the Cayman Kai/Rum Point area, Grand Cayman, Cayman Islands

---
Boat Charters/Sailing
Enjoy Cayman's crystal clear waters, snorkel over the beautiful coral reefs, visit stingray city and let our experienced crew take you on a sailing adventure to remember.
Sail into the sunset.
The Cayman Islands is blessed with a rich sailing heritage. This heritage continues with a strong recreational sailing community. The Cayman Islands Sailing Club is the National Authority for sailing in the Cayman Islands and affiliated to the ISAF and the Olympic movement.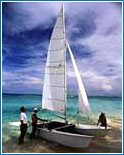 There is a strong commitment to developing the sport in the Cayman Islands, and the Club maintains a strong school and youth training programme. Families are especially welcome, with Saturday sailing classes for children. If you are a really keen sailor, interested in taking up the sport or just want to join our social activities you'll fit in straight away. The CISC is happy to provide lessons or recreational sailing to tourists visiting Grand Cayman.

If you are interested in taking a day sail, sunset sail or a romantic dinner cruise, there are various charter operators in Cayman that can accommodate private charter or scheduled service. There is no better way to experience the dramatic Cayman Sunset than under sail.
---
---
Need more information or have questions

Robert Wagner

Phone Number (412) 828-2111

Caribbean Vacation Grand Cayman Island Houses Rentals, Cayman Kai, Rum Point, Grand Cayman, Cayman Islands