"Cayman Kai Vacations" chosen best Privately Owned Properties

---
"Click on area of interest below"
"Cayman Kai Vacations"

offering in Cayman Kai/Rum Point and the North Side of Grand Cayman, Cayman Islands

Specializing in offering the

Island Houses of Cayman Kai

Vacation Rentals, Rental Management, & Investment Properties

in the Cayman Kai/Rum Point Grand Cayman, Cayman Islands

Specializing in offering

Villa's, Condominiums

Vacation Rentals, Rental Management & Investment Properties

in the Cayman Kai/Rum Point & North Side area Grand Cayman, Cayman Islands

click on to print page

---

---
World-class scuba diving, snorkeling, and sailing are just the beginning of your Islands' adventure. The Islands' history is rich in exotic detail, as our Museum, Botanical Garden and National Trust clearly demonstrate. So whether it's a trip under the sea to feed the stingrays, an excursion to the Turtle Farm for a hands-on experience of one of nature's most inspiring miracles, or a journey into the past to revisit the first landing by Christopher Columbus, a feast for the senses-and sensibilities-awaits.
---
Activities and Excursions in Grand Cayman
Pedro's St. James, Queen Elizabeth II Botanic Park, Cayman Islands National Museum, Majestic Trail, Cayman Island Turtle Farm, Stingray City, Cayman Islands Helicopter Rides, Visit Cuba (trips), Stingray Brewery, Hell, Blow Holes, Conch House, South Church Street, Pirates Cave, Cardinal D's Park, Silver Thatch Excursions, Bowling, Tennis Club, Scooter Rentals, Horseback Riding
With so many activities in Grand Cayman and excursions in the Cayman Islands, scuba diving and snorkeling are not the only pastimes offered. A day out of the Cayman's sun can be taken to enjoy a multitude of excursions.
---
---
Click on above picture to go to their web site
Boatswain's Beach, the new home of the world famous Cayman Turtle Farm, is Cayman largest and most eagerly anticipated tourist attraction. The Park offers visitors a unique opportunity to swim and snorkel with fish and other marine life, peer into a predator tank and come nose to nose with sharks and eels, stroll down a historic Caymanian street complete with porch side artisans or view the free flight bird aviary and walk the nature trail.
New for 2006, Cayman's largest and most eagerly anticipated tourist attraction, Boatswain's Beach is now open. Pronounced 'Bo-suns' Beach, this one-of-a-kind, 23-acre adventure marine park promises to become one of the most exciting attractions in the Caribbean.
Boatswain's Beach celebrates Caymanians' stewardship of the seas and relationship with nature through tactile, colorful, educational and memorable experiences.
The park allows visitors to experience the rich history of Caymanian life in a fun and safe environment while providing opportunities to observe and interact with native flora and fauna. In keeping with its cultural heritage, Boatswain's Beach is the new home of the world renowned Cayman Turtle Farm.
The only one of its kind in the world, the turtle farm is home to over 11,000 Green Sea Turtles, ranging in size from six ounces to six hundred pounds each. Visitors can tour an actual working farm, which is both educational and entertaining, and turtles are available for guests to hold for an amazing and unique photo opportunity.
The Cayman Turtle Farm has held a long-standing tradition of releasing some of the turtles that have been bred at the farm. This tradition was initially inspired by the Cayman Turtle Farm's commitment to both its conservation initiatives of ensuring the continuation of the species, and of the on-going research that will help biologists learn more about turtle migration and nesting behaviour. Visitors to the island can have the opportunity to actively participate in an annual turtle release, as this year's annual release takes place on November 16, 2006. This is an once-in-a-lifetime experience and those interested in participating should send an email to info@boatswainsbeach.ky for more information.
The turtle farm breeds the Green Sea Turtle, named for the green colour of the fat deposits inside its skin. Other turtle species exhibited on the farm include the Loggerhead Turtle, the Kemps Ridley, and the beautifully patterned Hawksbill Turtle.
The new expanded facilities at Boatswain's Beach will ensure visitors continue to learn more about these amazing sea creatures as well as our new additions including the predators, birds, crocodiles, and other exciting creatures. The new park will house a world-class research and educational facility that will focus on the conservation of sea turtles.
The new Breaker's freshwater pool, one of the parks main highlights opened to the public on July 15, 2006. Visitors can now enjoy a refreshing, cool dip in the ever inviting Breaker's fresh water tidal lagoon and dine on a scrumptious meal at Breaker's Snack Shack. Items on the menu include jerk chicken and pork, hamburgers, sandwiches, and desserts amongst other delights.
In October 2006, the park will offer visitors a unique opportunity to swim and snorkel with fish and other marine life in its 1.3 million gallon salt-water lagoon. Guests can also peer into the predator tank and come nose-to-nose with sharks and eels. For those less adventurous, wander through the beautiful free-flight bird aviary or stroll down an historic Caymanian street complete with porch side artisans. Children and adults alike will delight in interacting with starfish, urchins and crabs at the touch pool. Everyone will enjoy the experience of the finest Caymanian cuisine at a variety of locations throughout the park.
For those wanting to take a little of Boatswain's Beach home, 18 shopping kiosks are located throughout the park, as well as a 3,500 square foot Boatswain's Beach retail centre located in the reception building.
The farm is open seven days a week from 8:30 am to 4:30 pm and is wheelchair accessible. Entry for adults is US$60.00 and US$25.00 for children 2-12; children under 2 have free entry in to the park (prices are subject to change). The farm is located on Northwest Point Road in West Bay, just eight miles from George Town.
Boatswain's Beach will launch its membership club in the near future, providing everyone with the opportunity to receive continuous updates, discounts, travel opportunities around the world, and many other exciting membership only activities at the park. For information on the club, and to receive updates and press releases on the park, contact marshaebanks@boatswainsbeach.ky
Boatswain's Beach can also cater for functions of all types and sizes. Whether your party is an anniversary, birthday, business affair, Christmas, or New Year function, Boatswain's Beach can host any occasion. As small as a group of 10 or as large as a group of 2,000 people, Boatswain's Beach can make it happen!
With its ability to weave entertainment, education, and conservation together in one cohesive package, Boatswain's Beach will take your next business event to another level. Furnished by an eccentric sunset, Caribbean music in the background, an array of delectable foods and the finest wines and spirits, your special event will turn into a beautiful evening that will never be forgotten.
Boatswain's Beach will handle all the details, from catering and decorations to music and entertainment.
For more information on having your next event at Boatswain's Beach, please contact the Special Events Coordinator, Mr. Chet Anglin at 949-3894 Ext. 4203 or at chetanglin@boatswainsbeach.ky
For more details on Boatswain's Beach visit www.boatswainsbeach.ky
The only one of its kind in the world, Cayman Turtle Farm is home to over 16,000 sea turtles, ranging in size from six ounces to six-hundred pounds each! The farm is a modern-day reminder of the turtle's role in the history of the Cayman Islands. When Christopher Columbus first discovered the islands in 1503, he named them "Las Tortugas," meaning The Turtles. According to legend, there were so many turtles that the islands looked like they were covered with rocks.

The turtles are a protected species, and you can witness the majesty of these unique creatures hands-on. Nowhere else can you see an endangered species so successfully raised for conservation. In fact, since 1980, the Farm has released 29,000 turtles back into the sea to help replenish the wild population.

The top priority at the Farm is maintaining an ideal breeding environment. Breeding season runs from May to October, during which time the turtles dig their nests on the beach near the breeding pond and produce their eggs. The eggs are immediately taken to the hatchery, where staff monitor the hatching process. This normally takes about 60 days. An average of 8,000 hatchlings are produced every year.

Witness this awe-inspiring miracle of nature. The Farm is open seven days a week, from 9 a.m. to 5 p.m. Cost: US$6 for adults, US$3 for children (ages 6-12). Free for children under six.
---
Phone: 345-947-3329

Fax: 345-947-2611

Address: Savannah Grand Cayman
Historically Accurate Reconstruction of Original 1780 Great House Is A Spectacular Showpiece For the Birthplace of Democracy.

At the end of a quiet, mango and mahogany tree-shaded road in Savannah, Grand Cayman, high atop a limestone bluff, lies one of the Caribbean's most spectacular historic restorations, the Pedro St. James Historic Site. After seven years and a $7.5 million transformation, the Cayman Islands government has created the country's most ambitious heritage attraction to date and its first national landmark.


The final phase of the most extensive restoration project in Cayman's history was completed in December 1998 and unveiled during a gala Grand Opening celebration. Sprawling over 7.65 acres with a breathtaking view of the azure Caribbean, Pedro St. James is one of the country's genuine treasures awaiting discovery by all visitors.

Behind a traditional coral stone wall rises an authentic, three-storey early 19th century great house and outbuildings, with traditional "grounds" planted with pineapple, banana and other provisions. The adjacent acres are covered with luxuriant tropical plants, palm-lined walkways and a splendid manicured Great Lawn sprawling to a jaw-dropping view of the Caribbean. At the main entrance is the Visitors Centre featuring a state of the art multimedia theater where visitors experience 200 years of Cayman history in 20 minutes.

Today, it is a site whose grandeur is befitting of its importance as the Birthplace of Democracy in the Cayman Islands.

Formerly known as Pedro Castle, this is the oldest known existing stone structure in the Cayman Islands. The original building is believed to have been built of quarried native rock around 1780 as a great house by William Eden, a mariner, plantation owner and early settler.

Pirates & Folktales


There never was a Spanish-built castle, nor any proof that pirates ever came ashore at Pedro, much less built a fortress here. These were 20th century fabrications of combining local folktales and the stories created by a very real, American-born adventurer turned entrepreneur Tom Hubbell, who owned the site from 1954 until his death in 1977. In the 60's, Hubbell renovated the long-abandoned stone ruins, originally planning a small guest house and bar. He chiseled the date "1631" into the top of the building's entrance, added jagged crenellations along the top level and promoted it as a fortress once inhabited by Captain Morgan and other pirates.

Later Hubbell leased it as a bar and restaurant and rustic two-bedroom inn. Pedro Castle became a much bigger attraction as a popular watering hole. It survived hurricanes, a fire, and a variety of owners until a second fire in 1989 finally reduced the building to ruins once and for all.

In November, 1991, the Government bought the 7.65 acre property from Hubbell's estate to develop as Cayman's first national landmark and heritage tourism attraction. At that time, the price of CI$852,000 (US$1,039,634) made it the most expensive official land acquisition in the history of the Cayman Islands.

Commonwealth Historic Resource Management Ltd., the Canadian consulting firm responsible for Antigua's Nelson's Dockyard, was selected in 1992 to work with Cayman's Historic Sites Committee as project managers. They launched a public education campaign emphasizing the official name was no longer Pedro Castle, but Pedro St. James Historic Site and Restoration.

Early History
The project began with two years of archaeological research and simultaneous searches in archives in Jamaica, Scotland, England and Spain. Together, these efforts unearthed historic facts far more interesting than romantic fiction.

In 1780, William Eden, a mariner and early English settler, established a cotton and mahogany plantation on Savannah's Pedro bluff with its spectacular view of the Caribbean and convenient anchorage for ships right offshore. His great house, called St. James, was built with slave labor using native quarried stone. It was a remarkable building for that period, when the population of Grand Cayman was only 400--of which 200 were slaves. It was the only house on Grand Cayman that survived the devastating hurricane of 1785. The original ruins beneath the "castle" are the oldest structure in the Cayman Islands. By 1823 the house and grounds were being used as a courthouse, jail and public pound.

Birthplace of Democracy
But its greatest historic significance was not even publicly known until this decade. Pedro St. James was the site of a historic meeting of residents which took place on 5 December, 1831 during which it was resolved that representatives should be appointed for the five different districts for the purpose of forming local laws for better Government. The elections took place on 10 December in the five districts on Grand Cayman and on 31 December they met as the first Legislative Assembly for the first time in George Town.

"Pedro St. James Historic Site, considered the birthplace of democracy in the Cayman Islands, will serve as our premier national landmark. This is our equivalent to Independence Hall in the United States and will serve as a model for future heritage tourism attractions here," said Minister Jefferson.

In addition, another historic event took place here in May 1835, when the proclamation declaring the emancipation of all slaves throughout the colonies was read at Pedro St. James and at a number of other prominent places in the Cayman Islands.

Historically accurate restoration
The new Pedro St. James great house was completed in January 1998, a historically accurate restoration of the original plantation great house, representative of the period between 1820 and 1840. The three-level design with wide verandahs was based on archival and architectural research about that era of Caribbean history, as well as the materials used in the original structure itself. This provided enough evidence for an accurate idea of what Eden's original manor looked like.

Every detail reflects authentic building techniques of early 19th century Caribbean great houses - from rough hewn timber beams and wooden pegs to replacing the false upper level crenellations with a gabled framework. Other period features include mahogany floors and staircases, wide beam wooden ceilings; stone walls, outside wooden louvered shutters and mahogany doors.

The first floor houses the jail, store rooms, kitchen and pantry. The second level is a dining room, courtroom and verandah and the upper level contains the living quarters. Furnishings are a combination of original 19th century mahogany antiques and reproductions obtained from St. Kitts and other Caribbean countries. Rooms are accurate in detail down to walls painted with lime wash the color of oxblood; candle sconces and brass door fastenings.

A bake oven and outdoor kitchen on the building's northwest side are recreations of the original great house estate. More recent additions include an early 20th century Caymanian-style cottage and Steadman Bodden house, a restored traditional 100-year-old Caymanian wattle and daub home. Both were relocated to the site to enhance its educational heritage value.

One of the most beautiful locations in the Cayman Islands, Pedro St. James is already a popular venue for weddings and social events. The grounds have been landscaped as a magnificent natural tropical park with native trees and plants, as well as traditional medicinal and vegetable gardens representative of a small early 19th century West Indian plantation.

The $1.5 million Visitors' Centre includes five-buildings in 19th century architectural style surrounding a landscaped courtyard. The main attraction is the 49-seat state of the art multimedia theater featuring a 20-minute video presentation on Pedro St. James and highlights of 200 years of Cayman history. Other facilities include a resource center, gift shop, and café. Interpretative displays and signs throughout the great house and grounds allow self-guided tours but guides are also available.

For Information: Pedro St. James Historic Site is located in Savannah, Grand Cayman and is open 8:30-5:00 daily. The multi-media show starts on the hour from 10:00am to 4:00pm. Admission is US$8.00. Children under 6 are free and children 6 to 12 years old pay US$4.00. For information, contact: ph: (345) 947-3329. Also visit us on the web at www.pedrostjames.ky.
---
Now A Year Old, Visitors Centre, Heritage Garden and Floral Garden are Spectacular Additions.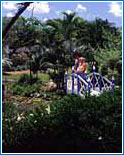 Many visitors arriving in this Western Caribbean destination, famous for Stingray City, have never heard of Cayman's Queen Elizabeth II Botanic Park, located in Grand Cayman's North Side. This heritage attraction was officially opened on 27th February, 1994 by Her Majesty Queen Elizabeth II and named in her honor. The next milestone was reached in May 1997, when Hon. Thomas Jefferson, Minister for Tourism, Commerce & Transport, officially opened three new attractions there: the Visitors Centre, Floral Garden and Heritage Garden, representing the Park's $1.75 million, second phase expansion program.


Visitors Centre
The $800,000 Visitors Centre is now the first stop on the tour of the Botanic Park, designed as a contemporary interpretation of Colonial Caribbean and Caymanian architecture, with wooden shuttered windows, wide verandah and brick courtyard with waterfall/fountain. The Centre is painted in Caribbean colors of green and pale coral and features a central reception area offering park information as well as a area for permanent and changing exhibits.

The second floor has a classroom for lectures and meetings. Other facilities include a gift shop stocked with gardening, horticulture and tropical flora-themed books and souvenirs; a snack bar/café set in a garden courtyard and a retail plant shop (plants can only be sold to residents.)

Heritage Garden
Nearby, the two-acre Heritage Garden recreates a resourceful Caymanian way of life known generations ago, long before this country came to enjoy the highest standard of living in the Caribbean. This attraction's main feature is the restored early 20th-century Rankin home, a traditional tiny three-room zinc-roofed Caymanian wooden cottage. Visitors are stunned when they learn that this structure once housed a family of 11 from infancy through adulthood. It was moved from its original location in the district of East End to the Park site in December 1995. The restoration features a porch, cook room with caboose, cistern, natural well, native coral stone fences and pathways lined with conch shells. Some of the original fixtures remain inside.

Planning the Heritage Garden involved years of research on existing old gardens in the Cayman Islands. National Trust and Botanic Park staff first had to identify and locate traditional plants and unearth information about their planting style, providing the design for the surrounding two acres.



When planning the Heritage Gardens, four elderly Caymanian ladies, considered authorities on the subject of traditional gardens, were invited to the Park to advise about plants commonly found in early gardens. Mrs. Essie Nixon, Mrs. Naomi Panton, Mrs. Phoebe Spence and the late Mrs. Ena Watler all made their contribution. As a result, visitors will discover a traditional Caymanian sand yard and garden with a variety of blooming plants including roses, orchids, hibiscus, crotons, lilies and cat bush. One area of the of the garden is dedicated to tea bushes and medicinal herbs. There is also a collection of traditional fruit trees, including mango, breadfruit, tamarind, plum, cherry, ackee and chella mella. The Heritage Garden also features an section traditionally known as "grounds," planted with "provisions" - vegetables including sweet potatoes, yams, cassava, okra, gungo peas, corn, plantains, bottlers and pumpkin.

The Heritage Garden adds an important historic and educational feature to the Botanic Park, demonstrating how early Caymanian settlers lived under austere conditions, depending heavily on their land for survival. In addition the Garden will serve as a valuable propagation source of traditional plants and trees which are rapidly disappearing as new ornamental varieties are imported, favored by Cayman residents.

Floral Garden
The Floral Garden is the Botanic Park's most ambitious project, a horticultural triumph on this very selectively fertile limestone island. Visitors stroll through a multicolored mosaic of hundreds of species of tropical and sub tropical plants spread over approximately 2.5 acres. Flowering plants and shrubs, succulents and cacti are arranged by color in nine distinct displays.

The entrance to the Floral Garden lures visitors into the Pink Garden's collection of rose and green Caladiums, Anderson Crepe Hibiscus, Codyline 'Morado" and exotic large bromeliads including Aechmea 'Victoria.' The path continues through gardens highlighting plants in Red, Orange, Yellow, White, Silver, Blue, Mauve and Purple. The centerpiece of the Floral Garden is an ornate white wooden gazebo atop a rise, overlooking ponds filled with water lilies and the nearby two-acre lake, a prime habitat for a variety of resident and migratory bird life. And a perfect wedding location! Visitors can relax in the shade of the gazebo and enjoy a view of a waterfall cascading off an elevated freshwater pond filled with water lilies. The pavilion also offers an excellent view of the lake.

Minister Jefferson, whose Ministry oversees the Botanic Park's development, said, "As a Caymanian I am very proud of our Park and what it represents. It is the second youngest botanical facility in the Caribbean - and it won the prestigious Islands magazine ecotourism award shortly after it opened in 1994. Within its 65 acres, you will find more than 40 per cent of the 674 species of plants native to our country as well as many kinds of native birds and other wildlife. And new discoveries surprise us regularly: from proof discovered a few years ago that crocodiles once inhabited our swamplands to last year's discovery of a species of orchid found for the first time anywhere in Cayman."

Lake Becomes New Natural Attraction
Another important attraction is the two-acre lake located near the southern end of the Botanic Park, just beyond the Floral Garden. Completed in August 1996, the area was originally part of the adjacent swamp. Decades of accumulated muck was removed from the site leaving a two-acre brackish water lake approximately 3.5 feet deep. The area has three small islands with native vegetation in the center which provide an important habitat and breeding area for native birds that live near large bodies of water. The Lake has already become an active site for birdwatchers, attracting a fascinating range of bird life. Among species sighted have been Tricoloured Herons, Common Moorhen, Green Herons, Black-necked Stilts, American Coots, Blue-winged Teal, Cattle Egrets and rare West Indian Whistling Ducks.

On the southern edge of the lake, visitors see native wetland vegetation mingled with Caribbean plants. Eventually, the eastern portion of the lake, adjacent to the buttonwood swamp, will have a boardwalk where visitors can take leisurely strolls to the bird watching tower and lookout.

A Safe Home for the Endangered Grand Cayman Blue Iguana
In 1995 the Park became the home for the National Trust for the Cayman's Islands' endemic Grand Cayman Blue Iguana captive breeding program, now seven years old. Currently more than 40 pure-bred endemic Grand Cayman Blue Iguanas are housed in the captive breeding and rearing facility, which was jointly funded by the Zoological Society of Milwaukee County, Wisconsin (the Milwaukee Zoo) and the affiliated Foundation for Wildlife Conservation, also in Milwaukee. Field research on these rare iguanas has been funded for the last five years by the Friends of the National Zoo, as part of ongoing technical assistance from the US National Zoo in Washington, DC.

This endangered species, found only in Grand Cayman, is protected by Cayman law. (According to the Trust, only about 150 mature Blue Iguanas remain in the wild, found only in the dense interior of the eastern district of Grand Cayman.) Although this special research area is not open to visitors, the Park's Blue Iguana Habitat remains a popular attraction. The display enclosure was funded by the World Wide Fund for Nature/ UK and was completed in time for the official opening in February 1994. The habitat provides a natural home for an adult male blue iguana which can be seen by visitors. The best time to see the rare animal is mid-morning on sunny days, between 8:30 and 10:30 a.m.

"The Botanic Park is an important example of the Cayman Islands' commitment to the preservation of our terrestrial environment. The new additions to the Park will provide both residents and visitors with the opportunity to enjoy and better understand this country's diverse flora and fauna, which have played an important role in Caymanian culture," said Minister Jefferson: "The Botanic Park offers a perfect setting for relaxing and enjoying the tropical scenery of the Cayman Islands."

Located on Frank Sound Road in the district of North Side, the 65-acre Botanic Park is about a 45-minute drive from George Town, opens daily at 9:00 a.m. and closes promptly at 5:30 p.m. Visitors are advised to enter the park by 4:30 p.m. Admission fees are USI$6.00 for adults; $3.00 for children ages six to 12 and free for children under six.

For more information about the Botanic Park, contact PH: (345) 947-9462 or FAX: (345) 947-7873. Or by e-mail: guthrie@candw.ky
---
Phone: 345-949-8368

Fax: 345-949-0309
Make the Cayman Islands National Museum the first stop on your tour of Grand Cayman and begin to see the real Cayman.

After years of planning, research and professional conservation of acquired artifacts, the Cayman Islands National Museum opened in November 1990 in the restored Old Courts Building in George Town. The attractive building overlooks Hog Sty Bay, and is one of Cayman's few remaining 19th century structures, a survivor of hurricanes and countless Nor'westers. During its 150 years, it has served as a jail and courthouse - and meeting place of worship. The meticulous restoration project won the 1990 American Express Preservation Award for the Caribbean.

The Museum collection contains over 2,000 items, from a 14-ft. traditional hand made catboat to old coins, rare documents and natural history specimens. In 1979 the Cayman Islands Government purchased the late Ira Thompson's private collection of historic memorabilia. This revered Caymanian's hobby spanned almost 50 years and launched the National Museum's original collection.

Cultural and Natural History
Here, you'll learn about this tiny country's fascinating cultural and natural history and the resourceful, independent nature of our seafaring society in a variety of exhibits and a 10-minute audiovisual presentation, "Cayman: Founded Upon the Seas."

Through the exhibits and displays, you will be introduced to a Cayman Islands very different from the sophisticated, cosmopolitan vacation paradise you see today. You'll begin to understand why this country's development is a success story which overcame incredible odds during the last 400 years.

Cayman's total land mass is barely 100 square miles for all three islands. Almost half of that is low-lying mangrove swamp. With few natural resources, there was little base for early industry when the first settlers arrived centuries ago. For many years, Caymanians supported themselves through modest exports of thatch rope, turtling, fishing - and later, working on foreign-owned ships. In fact, as late as the 1950's, Cayman's main export was listed in a Government report as "seamen," who became some of the world's finest ships captains and merchant mariners. Their earnings were the mainstay of the economy until tourism and the offshore financial industry took off in the mid-1970's.

Economic success story
Today, with one of the highest per capita Gross Domestic Product figures in the region, Cayman ranks as the world's second largest captive insurance domicile and fifth largest international banking center. The Cayman Islands shine as one of the Caribbean's leading economic success stories of the last 20 years.

As you leave, stop in the Museum Shop which offers a fine selection of books about Cayman; locally made crafts and high quality gifts, from Christmas tree ornaments to Caymanite jewelry. Then relax in the picturesque courtyard of the Cool Caboose on the south east corner of the Museum and enjoy a tropical fruit drink, ice cream or snacks.

The Museum is open Monday through Friday, 9 a.m. - 5 p.m. and Saturday, 10 a.m. - 4 p.m. Admission is US$5 for adults and $3 for children. You can become a Member of the National Museum and enjoy a variety of unique benefits including the official newsletter.

For information contact: (345) 949-8368/ Fax: 949-0309.
---

Our newest attraction presents some of the oldest known skills in the Cayman Islands. The Craft Market sits by the sea in a festive, park-like setting just a short stroll from the cruise ship dock in George Town. The vendors offer locally made items of leather, thatch, wood, and shell.
---
The Mastic Trail

Experience the fascinating and diverse pristine woodlands of Cayman's deep interior, on a rugged two mile trek through native mangrove swamp, ancient rocky woodlands and traditional agriculture. Cold soft drinks and transport back to the southern trailhead at the end of the walk will be provided.
Geddes Hislop and his wife Janet are the founders of this locally owned and operated enterprise. They specialize in guided hiking tours along Grand Cayman's famous Mastic Trail, as well as bird watching excursions on Grand Cayman. Geddes has a university degree in Wildlife Biology, and will help you get the most out of the Mastic Reserve -- one of the last tracts of primary evergreen woodland, evolved undisturbed for the last two million years, and offering a rich abundance of birds, rare trees and animals. For more information on these services, as well as Botanic Park visits, historical and environmental tours around Grand Cayman, etc., call (345)945-6588.
They can also be reached by e-mail, at silvert@hotmail.com.
---
Take your vacation to new heights with Captain Jerome, owner and operator of Cayman Islands Helicopters. Flying for over 13 years in the US, Canada and France, Jerome has appeared in movies and logged thousands of hours in the air, providing guests with some of the most spectacular views imaginable.
You can get a bird's eye view of all the island's hottest spots in record time and avoid all the crowds. With only four to six passengers per trip, you are assured of personal service and the best views of the sights you want to see. The island and its surrounding colorful waters provide breathtaking views as you soar across the landscape. Just outside the reef, it is not uncommon to spot large sharks, stingrays and an exciting array of sea life as seen from this elevated perspective. Tours are very reasonably priced and include free shuttle service to and from the Seven Mile Beach area. Call 929-0116 or 943-4354 for more information and reservations.
---
Stingray Brewery, on Grand Cayman Island, is the only full-scale independent brewery in the Caribbean.

Don't miss Stingray beer while you're in Cayman -- because you won't find it anywhere else in the world. (After you taste it, you'll say "Shucks" about that.)

Stingray Brewery, on Grand Cayman Island, is the only full-scale independent brewery in the Caribbean. Don't miss Stingray beer while you're in Cayman -- because you won't find it anywhere else in the world. (After you taste it, you'll say "Shucks" about that.)

Stingray Brewery produces fine hand-crafted beers to the traditional German Purity Standard. Under this standard, the beer is made from only four high-quality ingredients: hops, malt from grain, water and yeast. No additives or preservatives are allowed.

Stingray Brewery applies a reverse osmosis filtration system to bring Grand Cayman's already clean drinking water to a purity level of 99.5 percent. Only then is the water judged good enough to make Stingray beer.

Stingray Brewery produces three distinctive beers to suit the discriminating taste: Stingray Premium, Durty's Brew (named after well-known local restaurant proprietor, Durty Reid), and Stingray Dark.

Hand-crafting lets Stingray Brewmaster Andreas Moerl produce the best results from the ingredients in each batch. Stingray beers are brewed and matured in small batches.

Stingray beers are worth writing home about! They are distributed in bars and restaurants throughout the Cayman Islands. You can buy Stingray beers in the local liquor stores. Better still, you can visit the Brewery and sample the beers before making your choice. (While you're at it, bring back your case of empties for a refund, because Stingray Brewery recycles.) You can watch what's going on that day through the large glass windows and follow the signs for a self-guided tour of the brewing process. Then you can browse in the gift shop for one-of-a-kind Stingray clothing and gifts.

Since its establishment in 1995, Stingray Brewery has won a place in the hearts of Cayman beer drinkers -- visitors and residents alike.

Located in Prospect, Grand Cayman Island
(15 minutes by car from the airport (in the direction of East End)

Hours of Business: Monday to Friday - 9:00 to 5:00
Saturday - 10:00 to 5:00 Sunday - Closed
Telephone: (345) 947-6699 Fax: (345) 947-6652



---

Frequently labeled a paradise for divers and others, Cayman also boasts a bit of Hades, a village named Hell at the northwest end of the island. Visitors enjoy a visit to the Hell Post Office, from which they can send a postcard back home proving that they've taken a trip to Hell.

One of the natural attractions here is an unusual 15-million-year-old limestone formation, weathered into jagged pinnacles and ridges. Called iron shore, the rock formations were once as white as snow but acidic substances have lent it a charred look and carved the rock into unusual shapes. Please note that it is illegal to remove any of the rocks.
---
This attraction at East End should not be missed. As waves come crashing to the shore, tall geysers spout skyward from the coral rock, creating one of the most spectacular photo opportunities on the island. The spouts are the result of air and water being trapped in underwater caverns with the rise and fall of the waves.
---
Conch House
The 1935 structure easily rates a drive-by. A snapshot of the thousands of conch shells embedded in the walls of this house are no substitute for a glimpse of the live creatures in the North Sound or for a nice conch lunch, but who says you can't have your cake and eat it too?
---
The main attraction of Bodden Town, the former capital of the Cayman Islands, is at the center of town. Pirate Cave is connected to a labyrinth of tunnels and other undersea caves, which in days of yore made it an ideal place for pirates to hide their treasure. The site now houses only a few artifacts, including bones and stocks. Bodden Town's other main points of interest are Gun Square, where an early British fort once stood, and the famous Slave Wall, built by slaves to ward off foreign invaders.
---
At Cardinal D's Park, just off Eastern Avenue (George Town), you'll find a bird sanctuary with over sixty species of exotic birds, iguanas, agoutis, ducks, emus, miniature ponies and turtles. There's also a snack bar and souvenir shop. Founded by two Caymanians in 1985, the park is ideal for kids, who can feed the animals, and nature lovers. Open seven days a week, the park can be reached at (345) 949-8856
---
They feature first class, professionally trained big & beautiful horses.
Walk, trot and canter along the stunning beaches and beach trails of Grand Cayman
Early Morning, Sunset and Full Moon Rides are recommended.
---
Tel: (345) 947-7976
Fax: (345) 947-1051
E-mail: pennyhon@hotmail.com
---
Stingray Bowling Centre & ARCADE
Hours: 11:30am - closing (seven days a week)
Tel: (345) 945-4444
Fax: (345) 949-6900
E-mail: bowling@candw.ky
---
The Cayman Islands Tennis Club, a member of the International Tennis Federation (ITF), offers their court in South Sound to visitors at a flat rate of CI$5.00 (US$6.25) per person, anytime up until 5:30pm. More information is available at (345) 949-9464.
---
Jogging & Hiking
The Mastic Trail, part of the Mastic Reserve, is two miles long, takes about 2½ to 3 hours, and is ideal for hiking in Cayman's wild interior. The woodland, evolved undisturbed for the last 2 million years, offers a rich abundance of birds, rare trees and animals, with guided walks available daily. Call Geddes Hislop of Silver Thatch Excursions at (345) 945-6588, or e-mail him at silvert@hotmail.com for more information about a guided tour. Geddes has a degree in Wildlife Biology, and really knows his stuff. For joggers, Beach Bay Road, near Turtle Nest Inn, is a route followed regularly by those wanting a good surface with little traffic. And, of course, there's the beach almost all around Grand Cayman, with public access guaranteed everywhere.
---
Bicycle Rentals
Bicycle Rentals - rentals are available on Grand Cayman, at Cayman Cycle Rentals, at (345) 945-4021, or Soto's Scooters & Cars, at (345) 945-4652.
---
Fitness Centers
There are at least four independent fitness centers on Grand Cayman, including World Gym Fitness Center, at (345) 949-5132; Fitness Connection & Aquatic Center, at (345) 949-8485; New Image Health Club, at (345) 949-7016; and One to One Personal Fitness, at (345) 949-9440.
345-949-8485 (345) 949-5132
---
Just send me a Email or give me a Call!

Need more information or have questions

Robert Wagner

Phone Number (412) 828-2111

---

Cayman Kai Vacations

Specializing in offering

"The Island Houses of Cayman Kai",

Villas & Condominiums

Vacation Rentals, Rental Management & Investment Properties

in the Cayman Kai/Rum Point & North Side area Grand Cayman, Cayman Islands

Click on to print page

Click on to return to
This site was last updates: 06/23/21 06:20 AM
Caribbean Vacation Grand Cayman Island Houses Rentals, Cayman Kai, Rum Point, Grand Cayman, Cayman Islands